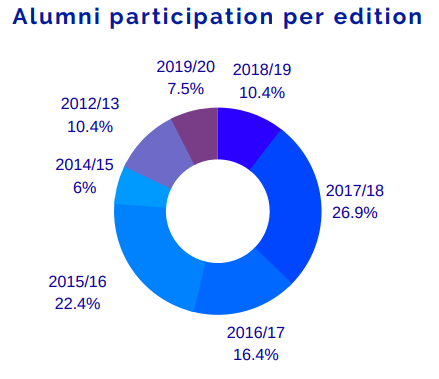 The main purpose of this event is to provide a detailed overview of various Latin American higher education systems, covering their respective progress and challenges. Additionally, this project seeks to strengthen networking among DIES IDC LA participants. The first Alumni Conference took place in April 2018 at the UEES in Guayaquil, Ecuador, with around 40 participants.
One year later, in March 2019, the second DIES IDC LA Alumni Networking Meeting was held at the Pontificia Universidad Católica del Perú, in Lima, with a participation of more than 50 Alumni. Representatives from the DAAD in Peru, HRK in Germany and the DFG in Latin America participated in this event as well.
Due to the unfortunate global pandemic of SARS-CoV-2 (COVID-19), we were unable to hold an Alumni Conference in 2020. Yet, in 2021 we were able to better adapt to the circumstances and arrange our first online Alumni Virtual Gathering!
We are looking forward to host further DIES IDC LA Alumni Networking Meetings in Latin America!